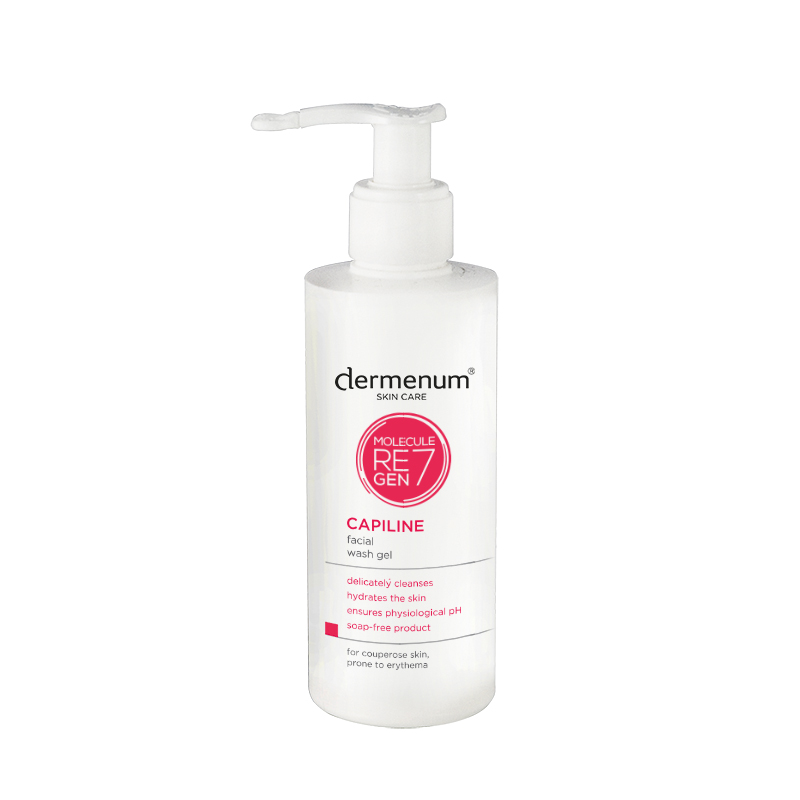 dermenum® CAPILINE FACIAL WASH GEL
Effect:
delicately cleanses and hydrates the skin

ensures physiological pH

it is a soap-free product

it has excellent cleansing properties

leaves the skin feeling soft and smooth

helps to reduce redness

does not make the skin dry
Indications:
Everyday care of couperose skin prone to erythema, as well as skin with broken and dilated vessels.
Volume:
200 ml
Efficacy of the facial wash has been confirmed in dermatological application tests.

After regular use of the dermenum® capiline facial wash gel for 3 weeks:

100% – gentle for the eye skin area
100% – has a soothing and calming effect
100% – properly cleanses and cares the skin

---

Four-week application tests have been performed in an independent Research Laboratory.

dermenum® capiline facial wash gel is an innovative product, developed on the basis of Regen7 molecule, which along with Chorella Vulgaris green algae extract and acerola fruit extract form a unique active complex caring for capillary skin prone to erythema. The gel is based on a gentle washing foundation, which is a free-soap basis ensuring physiological pH of the skin.

---

Regen7 molecule

A unique active substance. It is present only in dermenum® products.

 According to application studies, this is a physiological active substance of vitamin origin (vitamin PP derivative) which prevents the skin from irritations and is beneficial for epidermis (Pol. J. Pharmacol., 2003, 55, 109). It regenerates the skin and maintains its good condition.
More »

---

Chlorella Vulgaris green algae extract

Chlorella Vulgaris is a single cell green alga, which is rich in proteins (60%). It stimulates collagen and elastin synthesis, reduces the visibility of small blood vessels. What is more, it reduces reddening and the development of small blood vessels (the so-called "spider veins"). It lightens the complexion.

---

Acerola fruit extract

Acerola fruit extract contains significant amounts of vitamin C, which makes it a strong antioxidant. It prevents skin photo-ageing and protects the skin against free radicals. This extract stands as the natural UV filter. It lightens the skin and evens out the skin tone. Due to carbohydrate content (glucose, fructose, sucrose) not only hydrates, but also conditions the skin.

---

Glycerine

Glycerine is a component ensuring effective skin hydration. It protects the hydrolipid barrier of the epidermis and limits the TEWL. It also improves the softness and elasticity of the skin.

---

Use every morning and every evening for cleansing and make-up removal of the face and neck. Apply a small amount of gel on wet face and massage delicately until it foams. Rinse with warm water. Dry the skin and apply a proper dermenum® capiline cream.

In order to obtain particularly beneficial results it is highly recommended to simultaneously use other dermenum® capiline products on a regular basis.

As far as capillary skin and skin prone to redness is concerned, it is highly advised to pay special attention when caring for this type of complexion. It is also recommended to:

use skin care preparations dedicated for this particular type of skin, free of any exfoliating particles, warming or drying substances,
avoid washing the face with hot and chlorinated water, as this can lead to the occurrence of reddening,
cleanse the skin with gentle preparations, which ensure physiological pH, do not irritate and dry the skin (proper make-up removal lotions or wash gels for capillary skin),
avoid mechanical peeling, warming masques, as well as cosmetic products based on alcohol,
protect the skin against solar radiation (use creams with UVA/UVB filters) and avoid tanning beds,
protect the skin against variable weather conditions, wind, cold,
maintain a proper diet,
use protective creams, which strengthen weak blood vessels and improve the natural protective barrier of the skin.