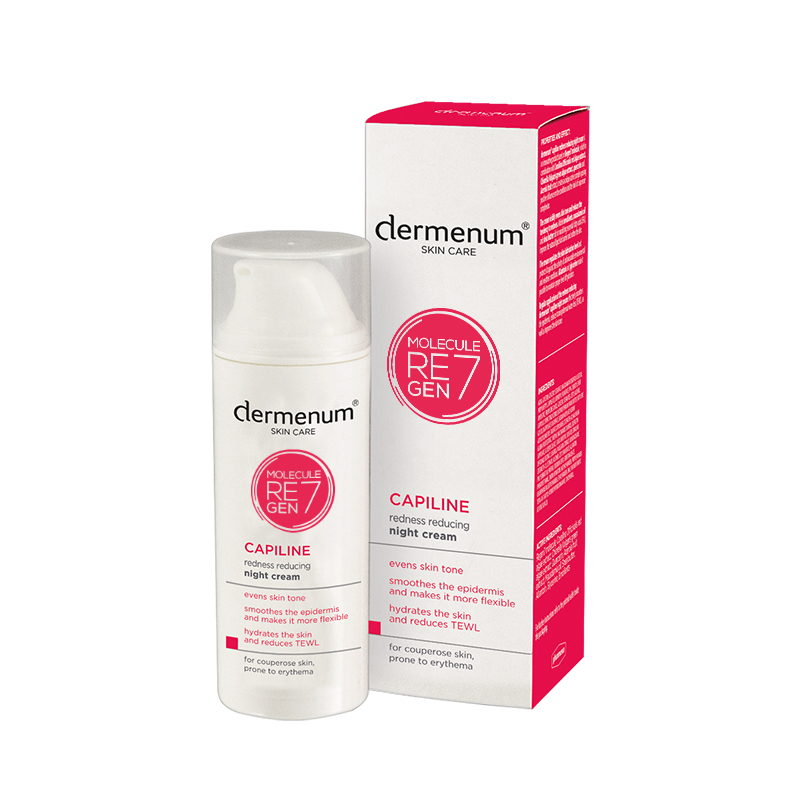 dermenum® CAPILINE REDNESS RELIEF NIGHT CREAM
Effect:
evens out the skin tone

smoothes and firms the epidermis

visibly hydrates the skin

limits the transepidermal water loss (TEWL)

protects the skin against detrimental activity of environmental factors

reduces the tendency towards reddening

improves nourishment and strengthens natural hydrolipid barrier of the skin
Indications:
Everyday care of couperose skin, prone to erythema, as well as skin with broken and dilated vessels.
Volume:
50 ml
Efficacy of the cream has been confirmed in dermatological application tests.

After regular use of the redness relief night cream along with other dermenum® capiline products for 4 weeks:

84% of respondents reported smoothed epidermis
80% of respondents reported reduced skin redness
80% of respondents reported properly nourished skin
76% of respondents reported improved skin hydration

---

Four-week application tests have been performed in an independent Research Laboratory.

dermenum® capiline redness relief night cream is an innovative product developed on the basis of Regen7 molecule, which along with Corallina Officinalis red algae extract, Chlorella Vulgaris green algae extract, quercetin, as well as acerola fruit extract form a unique active complex, which poses a positive influence on the condition and look of couperose skin.

---

Regen7 molecule

A unique active substance. It is present only in dermenum® products.

According to application studies, this is a physiological active substance of vitamin origin (vitamin PP derivative) which prevents the skin from irritations and is beneficial for epidermis (Pol. J. Pharmacol., 2003, 55, 109). It regenerates the skin and maintains its good condition.
More »

---

Corallina Officinalis red algae extract

Extract from calcium rich seaweed, which contains large amounts of microelements and trace elements (calcium, magnesium, iron, manganese, zinc) available in the form of easily absorbable bio complexes, which also easily penetrate the horny layer of the epidermis. It regenerates the skin structure, remineralises and rejuvenates epidermal cells.

---

Chlorella Vulgaris green algae extract

Chlorella Vulgaris is a single cell green alga, which is rich in proteins (60%). It stimulates collagen and elastin synthesis, reduces the visibility of small blood vessels. What is more, it reduces reddening and the development of small blood vessels (the so-called "spider veins"). It lightens the complexion.

---

Quercetin

Quercetin is one of the flavonoids known for their antioxidant properties. It reduces the permeability of blood vessels and strengthens these vessels. It protects the skin against detrimental impact of reactive oxygen species and against irritations.

---

Acerola fruit extract

Acerola fruit extract contains significant amounts of vitamin C, which makes it a strong antioxidant. It prevents skin photo-ageing and protects the skin against free radicals. This extract stands as the natural UV filter. It lightens the skin and evens out the skin tone. Due to carbohydrate content (glucose, fructose, sucrose) not only hydrates, but also conditions the skin.

---

Macadamia oil

Macadamia oil is an excellent source of essential fatty acids (EFA, palmitoleic, oleic, linoleic and palmitic), phytosterols, lecithin and vitamins (A, B, E). It is known for its skin nourishing, softening and hydrating properties. Apart from the above, it regenerates the skin, soothes irritations, makes the skin more flexible and hence leaves the skin velvety smooth.

---

Shea butter

Shea butter is an oil obtained from Mangifolia tree. It contains nourishing fatty acids (oleic, stearic, palmitic and linoleic), along with vitamins A, E and F. Shea butter is a natural emollient, which bears a strong resemblance to the lipid layers of the epidermis. What is more, it protects and strengthens the intercellular segment of the cornified layer of the skin. It leaves the skin soft, smooth, hydrated and nourished. Furthermore, it protects the skin against adverse influence of external and atmospheric factors. It not only soothes and regenerates, but also smoothes and improves skin elasticity.

---

Allantoin

Allantoin is a derivative of urea, which accelerates the epidermal regeneration and is known for its soothing and alleviating properties. It reduces skin reddening and irritations. Allantoin moisturizes, smoothes and softens the skin.

---

Glycerine

Glycerine is a component ensuring effective skin hydration. It protects the hydrolipid barrier of the epidermis and limits the TEWL. It also improves the softness and elasticity of the skin

---

Emollients

Emollients are substances acting on the epidermal level (outermost layer of the skin) and ensuring proper skin hydration. By playing the role of a "dressing" protecting the skin against excessive water evaporation from the deeper layers of the skin, they reduce the risk of detrimental external factors penetrating into deep skin layers. They smooth and soften the epidermis. Emollients protect the hydrolipid epidermal layer by reducing the deficiency of lipids, which can frequently be eliminated by soaps or other washing agents.

The following emollients have been used in the dermenum® capiline redness relief night cream: propylheptyl caprylate, isopropyl palmitate, caprylic/capric triglyceride.

---

Apply a small amount of cream every evening on the skin of the face and neck, which has been thoroughly cleansed with a proper dermenum® capiline preparation. Gently tap and/or massage the preparation into the skin until it is fully absorbed. Use along with other products from the dermenum®capiline line.

In order to obtain particularly beneficial results it is highly recommended to simultaneously use other dermenum® capiline products on a regular basis. As far as couperose skin and skin prone to redness is concerned, it is highly advised to pay special attention when caring for this type of complexion. It is also recommended to: :

use skin care preparations dedicated for this particular type of skin, free of any exfoliating particles, warming or drying substances,
avoid washing the face with hot and chlorinated water, as this can lead to the occurrence of reddening,
cleanse the skin with gentle preparations, which ensure physiological pH, do not irritate and dry the skin (proper make-up removal lotions or wash gels for couperose skin),
avoid mechanical peeling, warming masques, as well as cosmetic products based on alcohol,
protect the skin against solar radiation (use creams with UVA/UVB filters) and avoid tanning beds
protect the skin against variable weather conditions, wind, cold
maintain a proper diet,
use protective creams which strengthen weak blood vessels and improve the natural protective barrier of the skin.