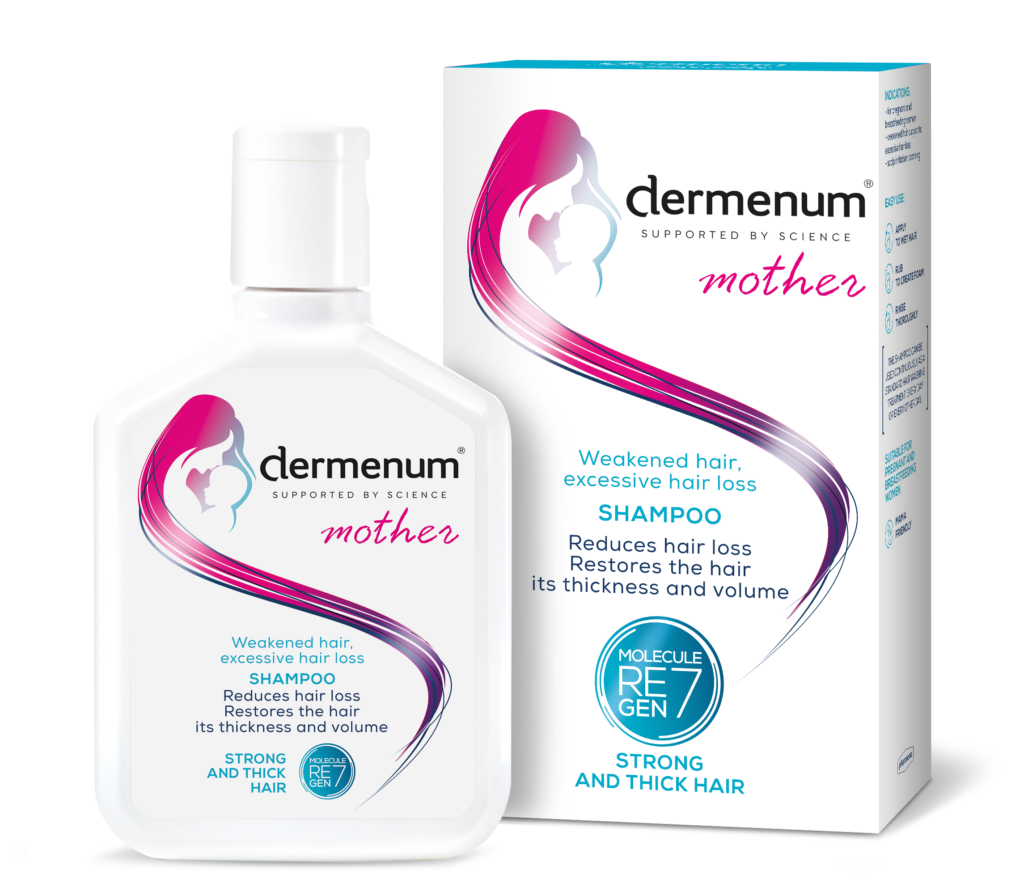 dermenum® mother SHAMPOO
Effect:
reduces hair loss

restores the natural hair density and volume
Indications:
for pregnant and breastfeeding women

weak hair and excessive hair loss

soothing scalp irritation
Volume:
200 ml
The efficacy of the dermenum® mother shampoo was confirmed by dermatological tests.

After 4 months of regular use, the dermenum® mother shampoo:

reduces hair loss according to 94%*
stimulates hair regrowth according to 90%*
restores the natural hair density and volume according to 87%*
reduces the hair breakage and split ends according to 94%*
moisturises the hair according to 90%*
makes the hair soft according to 84%*
makes the hair more shiny and bouncy according to 80%*
protects the hair from damage caused by heat and mechanical factors according to 87%*
the hair becomes more resistant to harmful external factors according to 90%*
soothes the scalp and protects it against irritation according to 97%*
restores hair vitality according to 87%*
leaves a feeling of regenerated hair and improved hair condition according to 90%*
leaves a feeling of strengthened and nourished hair according to 90%*
protects the scalp and hair against excessive dryness according to 87%*

* % of respondents who confirmed the efficacy of the shampoo after 16 weeks of regular use. The tests were carried out at an independent testing laboratory.

The following photos were taken with the TrichoScope MEDL4HM trichoscopy camera to illustrate how the dermenum® mother shampoo strengthens the hair after regular use:

Hair volume has increased visually, and the hair has become stronger and thicker.

Regen 7 molecule

A unique active substance.

Physiological active substance of vitamin origin (vitamin PP metabolite), which improves microcirculation of the scalp and strengthens the hair follicle. It improves its nutrition, and hence extends the life cycle of the hair in anagen phase and stimulates hair growth. Irritation reducing properties of this substance have been proven during application tests (Pol. J. Pharmacol., 2003, 55, 109). It regulates the activity of sebaceous glands and maintains a healthy scalp. More »

Jojoba – in the form of hydrolysed jojoba esters, which are very substantive to the structure of human hair, even after the hair is washed with water. They accumulate on the hair and coat damaged, porous and hydrophilic surfaces. Jojoba esters moisturise, condition and protect against heat. They leave the hair soft to touch, make hair detangling easier and reduce tangling.

---

Ingredients:
AQUA, SODIUM MYRETH SULFATE, COCAMIDOPROPYL BETAINE, COCO-GLUCOSIDE, GLYCERIN, LAURETH-3, POLYSORBATE 80, 1,2-HEXANEDIOL, HYDROLYZED JOJOBA ESTERS, METHYL NIACINAMIDE CHLORIDE, POLYQUATERNIUM-7, GLYCOL DISTEARATE, HYDROXYPROPYL GUAR HYDROXYPROPYLTRIMONIUM CHLORIDE, STEARETH-4, SODIUM BENZOATE, PARFUM, DISODIUM EDTA, LACTIC ACID.

We recommend using the shampoo together with the dermenum® mother conditioner. It is highly recommended to complement the hair strengthening treatment with a dietary supplement from the dermenum® mother line. Apply onto wet hair and massage until foam appears. Rinse thoroughly with water.

The shampoo can be used as a part of the regular hair wash routine on a daily basis or every second day.