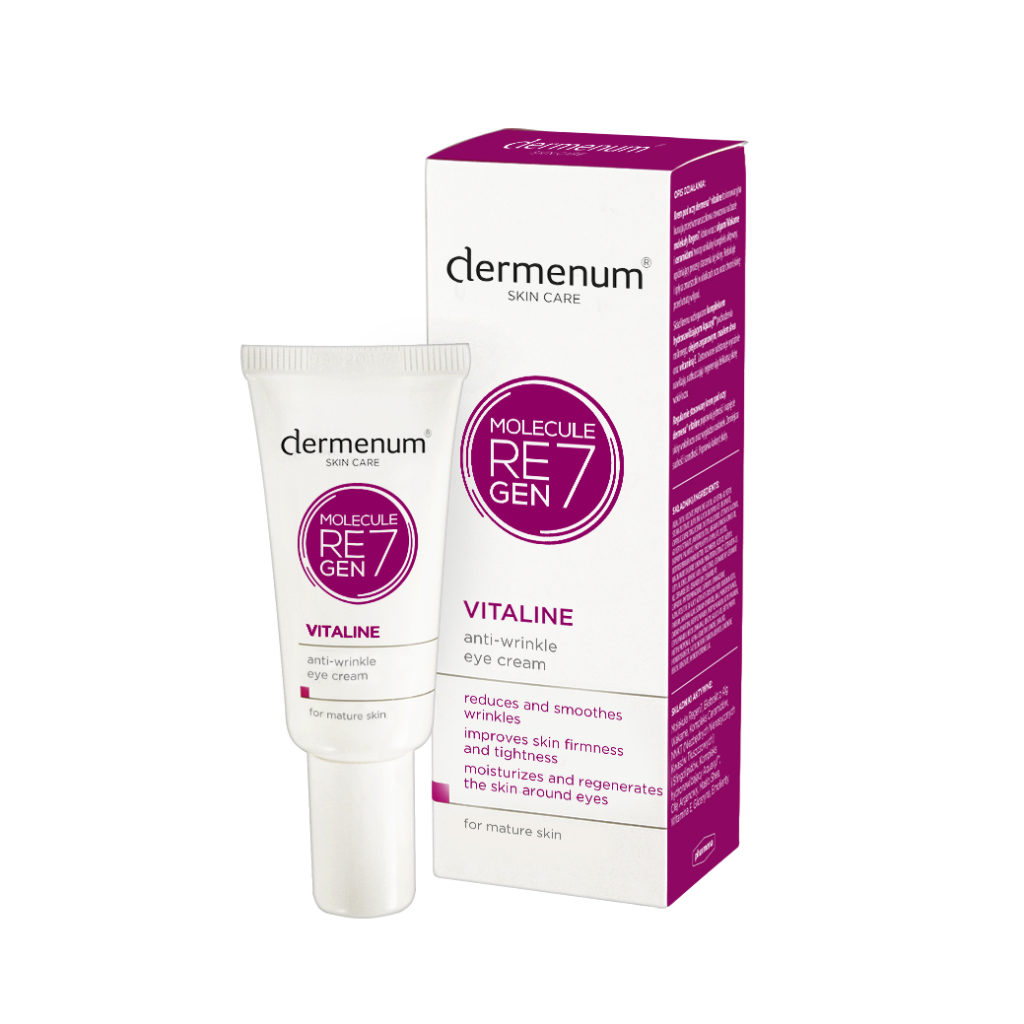 dermenum® VITALINE ANTI-WRINKLE EYE CREAM
Effect:
reduces and smoothes wrinkles

improves skin tightness and firmness

visibly moisturizes and regenerates the delicate eye skin area

protects the skin against moisture loss

decreases skin dryness and roughness

improves skin colour
Indications:
Everyday wrinkle prevention care for mature eye skin area, with a tendency towards drying, along with a visually decreased firmness and elasticity.
Volume:
15 ml
Efficacy of the cream has been confirmed in application dermatological tests.

After regular use of the dermenum® vitalineanti-wrinkle eye cream for 3 weeks:

100% of respondents reported improved skin hydration
100% of respondents reported smoothed epidermis
100% of respondents reported reduced skin dryness and roughness
93% of respondents reported improved skin nourishment
80% of respondents reported improved skin colour around the eyes

---

Three-week application tests have been performed in an independent Research Laboratory.

dermenum® vitaline eye cream is an innovative wrinkle prevention treatment developed on the basis of Regen7 molecule, which in combination with Wakame algae and ceramides forms a unique active complex, which delays the skin ageing processes.

---

Regen7 molecule

A unique active substance. It is present only in dermenum® products.

According to application tests, it is a physiological active substance of vitamin origin (vitamin PP derivative) which prevents the skin from irritations and is beneficial for epidermis (Pol. J. Pharmacol., 2003, 55, 109). It regenerates the skin and maintains its good condition More »

---

Wakame algae extract

Wakame (Undaria Pinnatifida) are brown marine algae, very rich in precious substances for the skin: vitamin (A,C,E and B group), mineral elements (iodine, iron, sodium, potassium, calcium, magnesium, manganium, copper and zinc), polysaccharides (algin, fucoidan, laminarin) and amino acids. Amino acids in combination with mineral elements and polysaccharides make up a component of a natural moisturizing factor (NMF), which allows for permanent water binding in the skin and prevents transepidermal water loss (TEWL). Thanks to their beneficial ingredients Wakame algae have anti-ageing properties, prevent the skin from elastin loss and smooth wrinkles. They provide the skin with necessary ingredients that nourish and firm the skin. They trigger new collagen production and stimulate fibroblasts responsible for skin regeneration and smoothness. They protect the skin against free radicals.

---

The complex of ceramides, essential fatty acids and sphingolipids

An active complex, which rejuvenates mature skin, stimulates keratinocytes for production of sphingolipids. It supplements lipid deficiency in the natural lipid film, strengthens protective barrier of the skin. It protects the skin from water loss and hinders the processes of skin ageing.

---

Tegosoft®DC

Plant oil (coconut oil fatty acid ester) used in products designed for the sensitive eye skin area. It is a moisturizing agent and creates a protective hydrolipid barrier.

---

Argan oil

Argan oil is obtained from an argan tree endemic species Argania spinosa. This oil has the greatest caring and nourishing properties among all other oils produced all over the world. It contains about 80% of essential fatty acids (EFA), mainly omega-6 acids, as well as considerable amounts of vitamin E, next to anti-oxidants. What is more, it not only reduces lipid deficit within the intracellular segment of the epidermis, as well as inhibits the activity of free radicals. Argan oil is a youth elixir, which reveals a strong skin regenerating activity. Due to the content of phytosterols, it is also known for its soothing properties. It has strong anti-ageing activity, which impacts the proper hydration, flexibility, nourishing, as well as cellular regeneration of the skin.

---

Shea butter

Shea butter is an oil obtained from Mangifolia tree. It contains nourishing fatty acids (oleic, stearic, palmitic and linoleic), along with vitamins A, E and F. Shea butter is a natural emollient, which bears a strong resemblance to the lipid layers of the epidermis. What is more, it protects and strengthens the intercellular segment of the cornified layer of the skin. It leaves the skin soft, smooth, hydrated and nourished. Furthermore, it protects the skin against adverse influence of external and atmospheric factors. It not only soothes and regenerates, but also smoothes and improves skin elasticity.

---

Glycerine

Glycerine is a component ensuring effective skin hydration. It protects the hydrolipid barrier of the epidermis and limits the TEWL. It also improves the softness and elasticity of the skin

---

Emollients

Emollients are substances acting on the epidermal level (outermost layer of the skin) and ensuring proper skin hydration. By playing the role of a "dressing" protecting the skin against excessive water evaporation from the deeper layers of the skin, they reduce the risk of detrimental external factors penetrating into deep skin layers. They smooth and soften the epidermis. Emollients protect the hydrolipid epidermal layer by reducing the deficiency of lipids, which can frequently be eliminated by soaps or other washing agents.

The following emollients have been used in the dermenum® capiline redness relief night cream: propylheptyl caprylate, isopropyl palmitate, caprylic/capric triglyceride.

---

Apply a small amount of cream every morning and evening on the skin eye area, which has been thoroughly cleansed with a proper dermenum® vitaline preparation. Gently tap the preparation towards the inner corner of the eye, until the product is fully absorbed.

In order to obtain particularly beneficial results it is highly recommended to simultaneously use other dermenum® vitaline products on a regular basis.

As far as mature skin is concerned, it is also advised to:

use skin care preparations adjusted to the age and demands of the skin, in order to maintain the proper condition of the skin and improve the look of the skin; particular attention should be paid to the eye skin area, which is truly sensitive and susceptible to the loss of firmness;
thoroughly remove make-up and impurities from the skin, as the accumulation of the above on the skin can cause oxidative stress and may result in accelerating skin ageing processes;
use properly selected skin care and cleansing preparations delicate for the eyes, which additionally do not weaken the natural hydrolipid barrier of the epidermis, and do not leave the skin irritated or dry;
nourish and moisturize the skin on regular basis by using creams with antioxidants along with active ingredients that regenerate the skin and prevent wrinkles;
use day creams with UVA/UVB filters, which protect the skin of the face against solar radiation and photo-ageing;
maintain a healthy and balanced diet, providing natural antioxidants and nutrients, essential for proper functioning of the skin; in case of poor diet it is advisable to implement compound dietary supplements, such as dermenum® complex
quit smoking, which has a considerable impact on skin ageing processes, as well as on the overall look and colour of the skin.