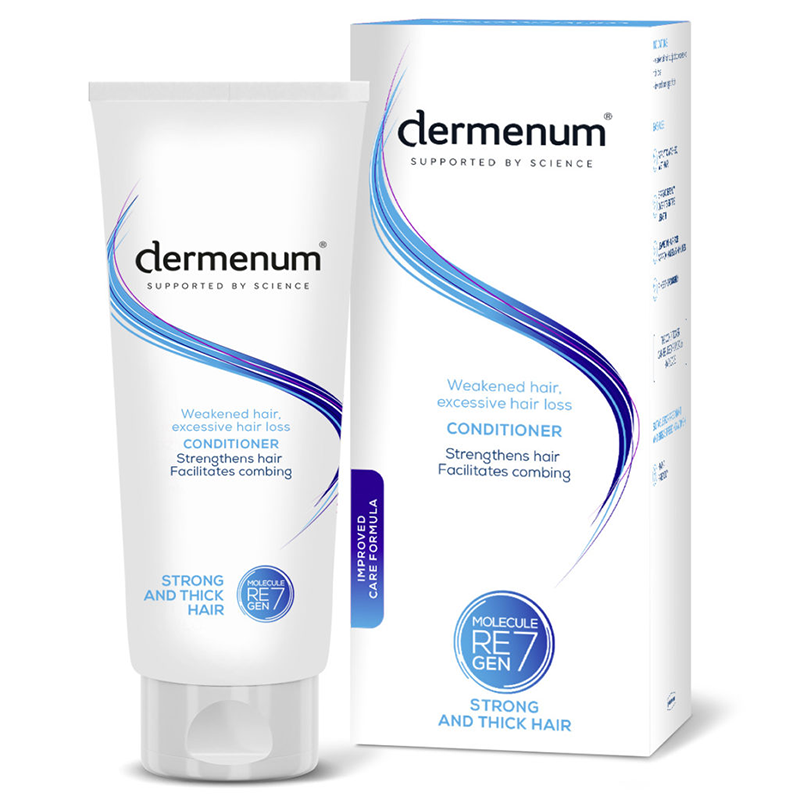 dermenum® CONDITIONER
Effect:
strengthens hair

facilitates combing

recreates keratin structure of the hair

slows the hair loss process

makes the hair smooth and shiny and does not weigh hair down
Indications:
strengthening weak and shedding hair

nourishing dry and damaged hair
Volume:
200 ml
Efficiency of dermenum® conditioner has been confirmed in dermatological tests.

Regular application of dermenum® conditioner for 3 weeks:

clearly increases hair shine in 85% of respondents
strengthens hair in 70% of respondents
makes the hair soft and pleasant to the touch in 95% of respondents
eliminates static hair in 90% of respondents

---

Application tests focusing on the dermenum® conditioner, which lasted three weeks, were conducted in an Independent Research Laboratory.

Molecule Regen 7

A unique active substance. Present only in dermenum® products.

Physiological active substance of vitamin origin (vitamin PP metabolite), which improves microcirculation of the scalp and strengthens the hair follicle. It improves its nutrition, and hence extends the life cycle of the hair in anagen phase and stimulates hair growth. Irritation reducing properties of this substance have been proven during application tests (Pol. J. Pharmacol., 2003, 55, 109). It regulates the activity of sebaceous glands and maintains a healthy scalp. More »

---

Shea butter

Oil extracted from the nut of the African shea tree, rich in vitamin A, E and F, as well as nutrient essential fatty acids (AFE). It moisturizes the hair, improves regeneration of the hair and protects the hair against adverse environmental factors. It improves the overall condition of hair and prevents frizzy hair.

---

Vitamin E

It is also known as the "youth vitamin". It is a natural antioxidant. It nourishes and conditions hair.

---

dermena® conditioner may be used on daily basis. After washing your hair, apply a small amount of conditioner on wet hair from roots to tips. Leave on your hair for 5 minutes, and then rinse thoroughly.

dermenum® conditioner constitutes a perfect complementation of treatment with a selected dermenum® line hair loss reducing shampoo and everyday care shampoo. It is especially recommended for weak hair - excessively dried and damaged. The conditioner should be applied after each washing of your hair.