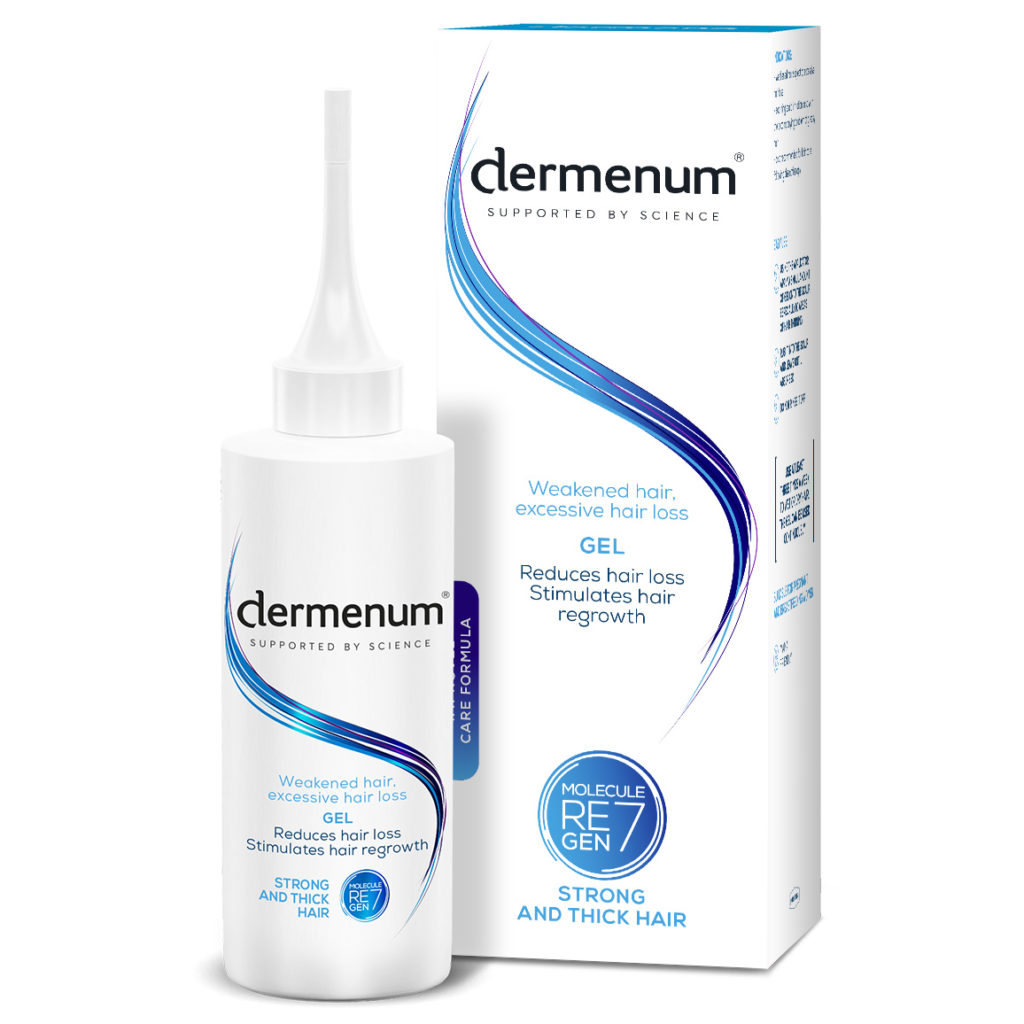 dermenum® GEL
Effect:
reduces hair loss

stimulates hair growth

strengthens and thickens hair, makes the hair look healthy

protects the scalp against irritations

does not leave the hair looking greasy and sticky

is absorbed quickly
Indications:
weak hair andexcessive hair loss

soothing scalp irritations, also in case of concomitant greasy hair

care product, which is also recommended after chemotherapy.
Volume:
150 ml
Efficiency of dermenum® gel has been confirmed in dermatological tests.

When applied on a regular basis, the dermenum® gel for 6 months:

reduces excessive hair loss in 89% of respondents
strengthens hair in 86% of respondents
leaves the hair looking healthy and more dense in 89% of respondents
protects the scalp against irritations in 89% of respondents
does not cause excessive drying of the scalp in 96% of respondents

The result related with hair loss reduction can be observed already during the 3rd week of applying dermenum® gel on regular basis.

dermenum® gel poses positive influence on the overall condition of the scalp and strengthens hair:

---

Application tests focusing on the dermenum® gel, which lasted six months, were conducted in an Independent Research Laboratory.

Molecule Regen 7

A unique active substance. Present only in dermenum® products.

Physiological active substance of vitamin origin (vitamin PP metabolite), which improves microcirculation of the scalp and strengthens the hair follicle. It improves its nutrition, and hence extends the life cycle of the hair in anagen phase and stimulates hair growth. Irritation reducing properties of this substance have been proven during application tests (Pol. J. Pharmacol., 2003, 55, 109). It regulates the activity of sebaceous glands and maintains a healthy scalp. More »

---

Creatine

It is an amino acid derivative revealing moisturizing and regenerating properties. It improves protection of the skin and hair against adverse environmental factors. It strengthens and conditions hair.

---

dermenum® gel should be used at least three times a week. Using the applicator, apply a small amount of gel evenly on the scalp, starting at the roots of hair, paying particular attention to the areas of thinning hair. Then massage the product gently with your fingertips into the scalp, with circular movements. Leave until fully absorbed. Do not rinse out. Use after shampooing on damp or dry hair. This gel may be used continuously.

In case of excessive hair loss, it is also recommended to use gel and selected shampoo from dermenum® line. Massaging the scalp immediately after applying the dermenum® gel additionally stimulates blood circulation within the skin and improves the action of active substances.