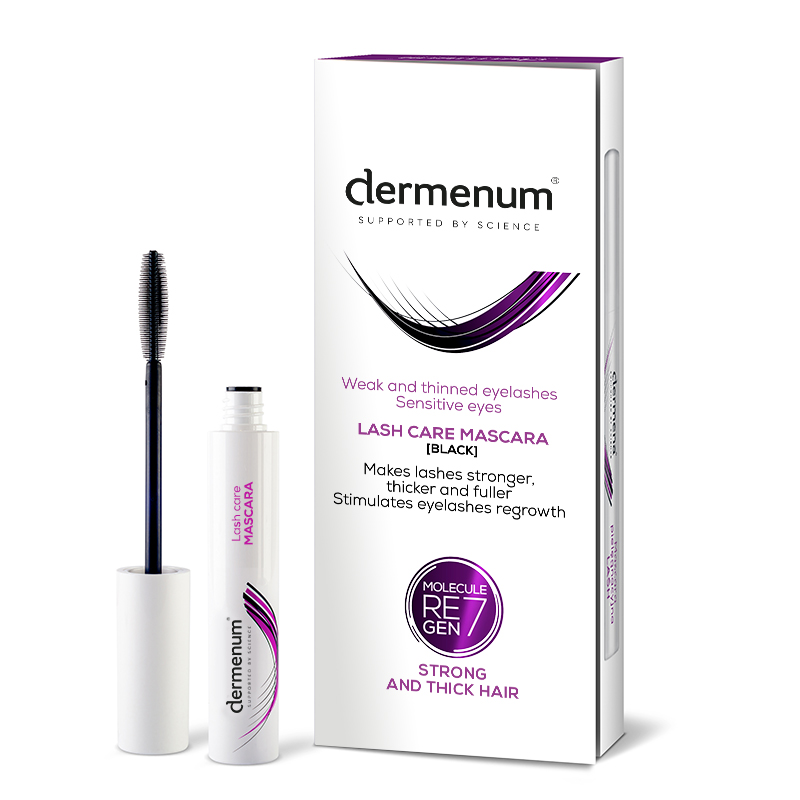 dermenum® LASH MASCARA
Effect:
makes lashes stronger, thicker and fuller

prevents the loss of eyelashes and stimulates their growth

has regenerating properties

ensures proper make-up of eylashes

improves the condition of eyelashes and restores their healthy look

lengthens the eyelashes

accentuates the look

mascara is available in black colour
Indications:
everyday eyelash care and make-up

eyelashes that are thinned, short and falling out

weak, thin and delicate eyelashes

sensitive eyes, prone to irritations
Volume:
10 ml
dermenum® lash mascara has been dermatologically and ophthalmologically tested.

On the basis of conducted tests it has been stated that after 28 days of regular application, dermenum® lash mascara:

strengthens eyelashes and restores their healthy look in 95% of respondents
prevents excessive loss of eyelashes in 90% of respondents
stimulates the growth of eyelashes in 75% of respondents
ensures proper care for weak and damaged eyelashes in 90% of respondents

What is more, the surveys also evalated the properties of the product. dermenum® lash mascara:

does not leave eyelashes clumpy in 75% of respondents
visually lengthens eyelashes in 90% of respondents
thickens eyelashes in 95% of respondents
makes the eyelashes more dense, giving the expressive look, without weighing the eyelashes down in 90% of respondents
gives the eyelashes an intense black colour in 100% of respondents

---

Application tests, lasting twenty-eight days, as well as the evaluation of properties attributed to dermenum® lash mascara have been performed in an Independent Research Laboratory.

Molecule Regen 7

A unique active substance. Present only in dermenum® products.

Physiological active substance of vitamin origin (vitamin PP metabolite), which improves microcirculation of the scalp and strengthens the hair follicle. It improves its nutrition, and hence extends the life cycle of the hair in anagen phase and stimulates hair growth. Irritation preventing properties of this substance have been proven during application tests (Pol. J. Pharmacol., 2003, 55, 109). It regulates the activity of sebaceous glands and maintains a healthy scalp. More »

---

Pro-Vitamin B5

Pro-Vitamin B5 is a natural component present in the skin and hair, it is crucial for their proper formation. It reveals high affinity to hair keratin, and hence it is easily absorbed by hair. It leaves the hair shiny, smooth, thick and hydrated.

---

Creatine

Creatine is an amino acid derivative, present in human body. This agent has a multidirectional activity. It increases energetic capacity of cellular metabolism and improves protection of the skin and hair against adverse environmental factors. It strengthens, conditions and regenerates hair.

---

Rice proteins

Rice Proteins are moisturizing and softening. Improve hair condition and protect them against adverse impact of external factors.

---

Palm oil extract

Palm oil is known for its protective and moisturising properties. It regenerates and lubricates. Nourishes and smoothes the hair surface.

---

Thoroughly clean your eyes and remove eye make-up. Apply the mascara with a wand, from the bottom to the top of your eyelashes. Begin the application from the inner corner of your eye and gradually move the wand towards the outer corner of your eye. Pull the wand along your eyelashes lightly in a "zig-zag" fashion, moving the wand back and forth, ensuring equal application of the mascara along lashes. Repeat the application to obtain the desired result. This product can be used in a continuous manner.

This mascara is recommended for women with sensitive eyes and for those wearing contact lenses.

Properties:

due to creamy consistency, mascara can be easily applied on eyelashes
does not leave the eyelashes clumpy and does not smudge
long-lasting and quickly drying mascara
specially profiled wand facilitates the application of mascara, even on short and weak eyelashes, reaching from the bottom to the top of eyelashes
does not stick eyelashes together

It is crucial to remember that eye make-up has to be thoroughly removed on a regular, everyday basis. Falling asleep with eye make-up results in clogged hair follicles and skin irritations, which as a result leads to weakened and falling out eyelashes. Remaining make-up may also cause mechanical damage to eyelashes, by breaking them. When removing make-up, avoid using too much force when rubbing the eyelids. Apply make-up remover with the use of cosmetic pads, and then wait for a while, as this enables the preparation to dissolve the mascara. Remove the make-up with delicate, vertical up-and-down movements, and then from the outer to the inner corner of your eye. In case of weakened eyelashes, requiring intense regeneration, it is recommended to use dermenum® lash mascara along with dermenum® lash conditioner, which stimulates the growth of eyelashes.