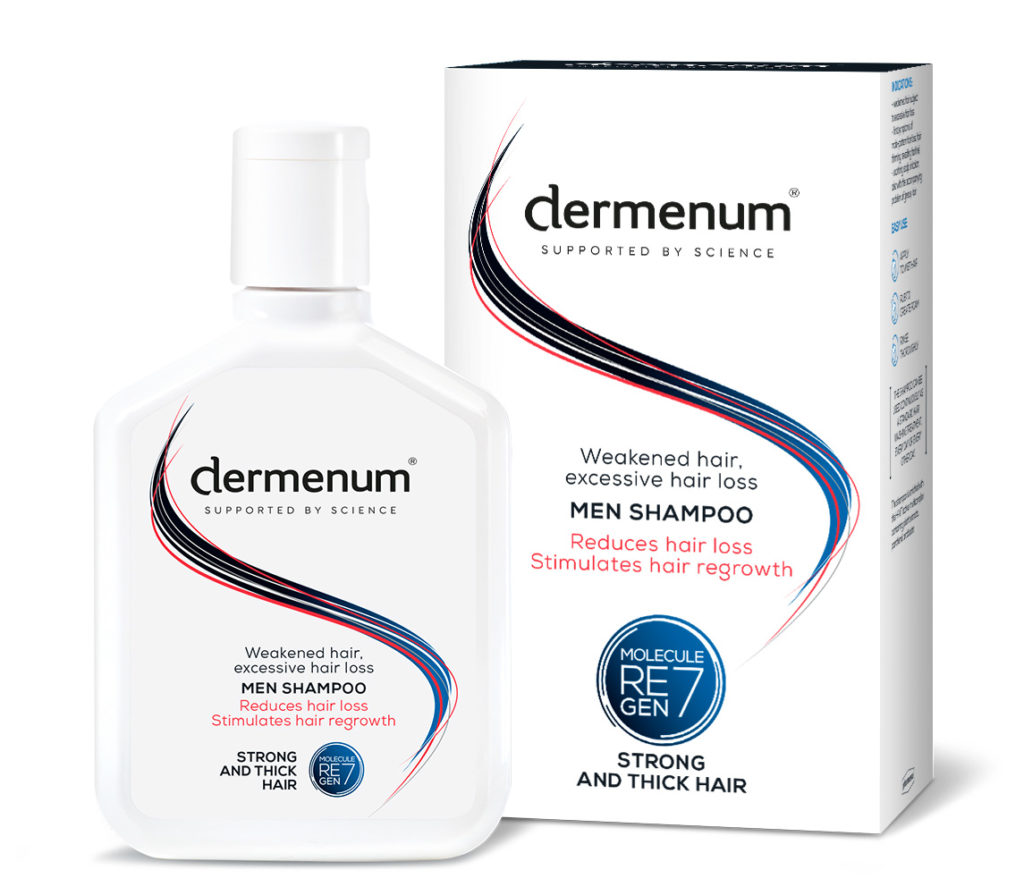 dermenum® MEN SHAMPOO
Effect:
reduces hair loss

stimulates hair growth

strengthens hair

protects the scalp against irritations

reduces hair greasiness

leaves the hair shiny and flexible

does not weigh the hair down
Indications:
excessive hair loss in men

first symptoms of man-pattern baldness (hair thinning and receding hairline)

strengthening weak and shedding hair

alleviating scalp irritations, also with concomitant hair greasiness
Volume:
200 ml
Efficiency of dermenum® men shampoo has been confirmed in dermatological tests.

Regular application of dermenum® men shampoo for 6 months:

inhibits hair loss in 92% of respondents
stimulates hair growth in 79% of respondents
protects the scalp against irritations in 92% of respondents
leaves the hair soft and flexible in 86% of respondents
strengthens hair in 82% of respondents
prevents hair greasiness in 96% of respondents

dermenum® men shampoo visibly improves the condition and amount of hair:

---

Application tests focusing on the dermenum® men shampoo, which lasted six months, were conducted in an Independent Research Laboratory.

Molecule Regen 7

A unique active substance. Present only in dermenum®products.

Physiological active substance of vitamin origin (vitamin PP metabolite), which improves microcirculation of the scalp and strengthens the hair follicle. It improves its nutrition, and hence extends the life cycle of the hair in anagen phase and stimulates hair growth. Irritation preventing properties of this substance have been proven during application tests (Pol. J. Pharmacol., 2003, 55, 109). It regulates the activity of sebaceous glands and maintains a healthy scalp. More »

---

H-vit multi-active complex

Natural multi-active complex containing various plant extracts (glycyrrhiza glabra, rosa centifolia, cichorium intybus, rhodophyceae, bertholletia excelsa), as well as panthenol and biotin.

H-VIT multi-active complex inhibits the conversion of testosterone into dihydrotestosterone (DHT) by blocking the activity of 5-alpha-reductase. As a consequence, this complex regulates the activity of sebaceous glands and reduces the risk of hair follicle damage caused by androgens. It oxygenates and energizes hair follicles and scalp. H-VIT is also rich in nutrients and protective compounds (B vitamins, vitamin F, biotin, trace elements – zinc, calcium, manganese, amino acids, polyunsaturated fatty acids), which strengthen and regenerate not only the scalp, but also the hair structure.

---

Best results can be achieved when using dermenum® men shampoo during the standard, everyday shampooing. Apply the shampoo on wet hair and massage carefully until it foams. Then rinse thoroughly. dermenum® men shampoo can be used on continuous and regular basis.

It is recommended to use the shampoo along with dermenum® men lotion, anticipated for everyday use. In case of excessive hair loss, it is recommended to use dermenum® men ampoule treatment. Male-pattern hair loss is a gradual process, therefore the sooner you begin care treatment based on dermenum® men line, the better results within the field of hair strengthening and hair loss prevention can be achieved. Treatment should be undertaken after observing the first symptoms of man-pattern baldness (hair thinning and receding hairline).