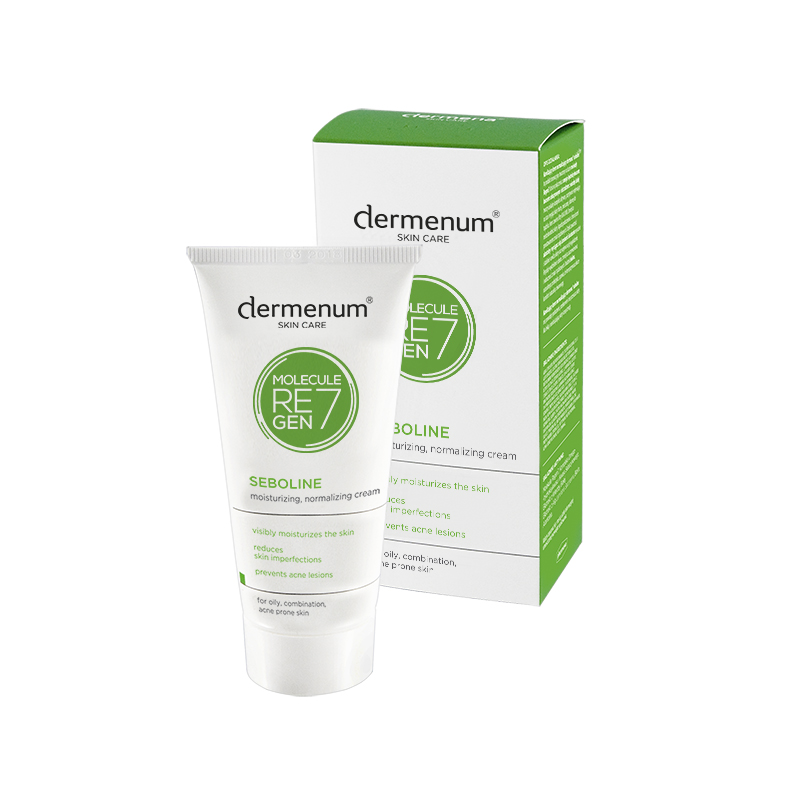 dermenum® SEBOLINE NORMALIZING MOISTURIZING CREAM
Effect:
clearly moisturises the skin

reduces skin imperfections

soothes irritations and prevents acne lesions

regulates sebum production

reduces redness and the visibility of acne lesions

smoothes the epidermis

restores skin comfort and natural balance

does not cause irritations, discolorations and does not make the skin dry

it has a light texture which does not weigh down the skin

contains UVA/UVB filters
Indications:
everyday care of oily, combination skin prone to acne lesions

recommended for sensitive skin

this product may be used as a skin care product during acne treatment
Volume:
50 ml
Efficacy of the cream has been confirmed in dermatological application tests.

After 3 weeks of using dermenum® seboline normalizing moisturising cream on a regular basis::

97% of respondents reported that it improves the overall look of the skin
90% of respondents reported that it moisturises the skin
90% of respondents reported that it reduces oily skin
76% of respondents reported that it protects the skin against acne lesions.

---

Three-week application tests have been performed in an independent Research Laboratory.

dermenum® seboline normalizing moisturizing cream is an innovative skin care product based on Regen 7 molecule, which in combination with omega-hydroxy acid, sebacic acid and white willow extract, forms a unique active complex posing positive influence on the condition and the look of oily, combination and acne-prone skin.

---

Regen7 molecule

A unique active substance. It is present only in dermenum® products.

According to application studies, this is a physiological active substance of vitamin origin (vitamin PP derivative) which prevents the skin from irritations and is beneficial for epidermis (Pol. J. Pharmacol., 2003, 55, 109). It regenerates the skin and maintains its good condition.
More »

---

Omega-hydroxy acid and sebacic acid complex

This complex contains a mixture of omega-hydroxy acid (10-hydroxydecanoid acid) and sebacic acid, which regulates functioning of sebaceous glands and reduces excessive sebum production. It reduces the development of comedones and protects against excessive development of Propionibacterium acnes bacteria.

---

White willow extract

This extract is a source of natural salicylic acid and flavonoids. It is famous for its toning, delicately exfoliating and purifying properties. It fights Propionibacterium acnes bacteria.

---

Laminaria Saccharina algae extract

It regulates the functioning of sebaceous glands and limits sebum production. It regenerates, soothes and protects the skin against irritations. It moisturises the skin and protects it against cornification of sebaceous glands. It contains polysaccharides, which ensure physiological pH of the skin.

---

Biolin

It is a natural prebiotic which is a mixture of gluco-oligosaccharides and inulin. It maintains the proper balance of bacterial flora.

Allantoin

Allantoin accelerates the epidermal regeneration and is known for its soothing properties. It not only improves skin hydration, but also smoothes and softens the skin. Allantoin delicately exfoliates dry and dead skin cells and hence improves skin tone.

---

Apply a small amount of the cream every morning and/or evening on the face cleansed and toned with proper dermenum® seboline products. Avoid the eye area. Massage delicately. This cream is a perfect make-up base.

In order to obtain particularly beneficial effects, it is also highly recommended to simultaneously use other dermenum® seboline products on a regular basis. In order to reduce oily, combination and acne-prone skin issues, it is crucial to follow certain general recommendations as far as caring for this type of skin is concerned. It is essential to:

wash your face with warm water and use washing preparations that regulate the sebum production and protect the skin against excessive development of Propionibacterium acnes. These products should not cause irritations and should not make the skin dry (these should be alcohol-free preparations),
remove impurities and make-up on a regular basis with the use of preparations, which do not disturb the physiological pH of the skin (excessively alkaline pH supports the development of bacteria),
do not use regular soaps, as they can cause excessive skin dryness and can pose a negative influence on the pH of the skin,
do not dry the skin excessively, as this increases sebum production by sebaceous glands
do not remove comedones by yourself, as this results in irritations and inflammations,
as far as deep cleansing (removing dead skin cells) is concerned, use enzymatic peelings or peelings with fine and regular particle size in order to avoid skin irritations,
use light moisturising and matt creams, anticipated for oily and acne prone skin, which regulate the sebaceous glands, inhibit the activity of Propionibacterium acnes bacteria (bacteria responsible for the development of acne lesions) and they do not clog hair follicles,
pay particular attention to make-up products, as these should be light and non-comedogenic (these products should not clog hair follicles).